Any good artist knows the key to being able to create on a whim is.....hoarding. I never throw out anything I can see one day being useful. Like bottle caps. I can't tell you how many we've amassed in 5 years, but you'd do better to measure by weight. If you've had a beer at this home, we've got your cap. Unless you had cans. Then we got your nickel.
These little treasures are more than just shiny trinkets........each one is a little reminder of when you were in that Smirnoff Ice phase........which is why we are going to paint them, shove a picture inside, and glue a magnet on the back! Because we can all agree that some memories need to be covered up with a pretty picture and a coat of paint or two.

What you will need: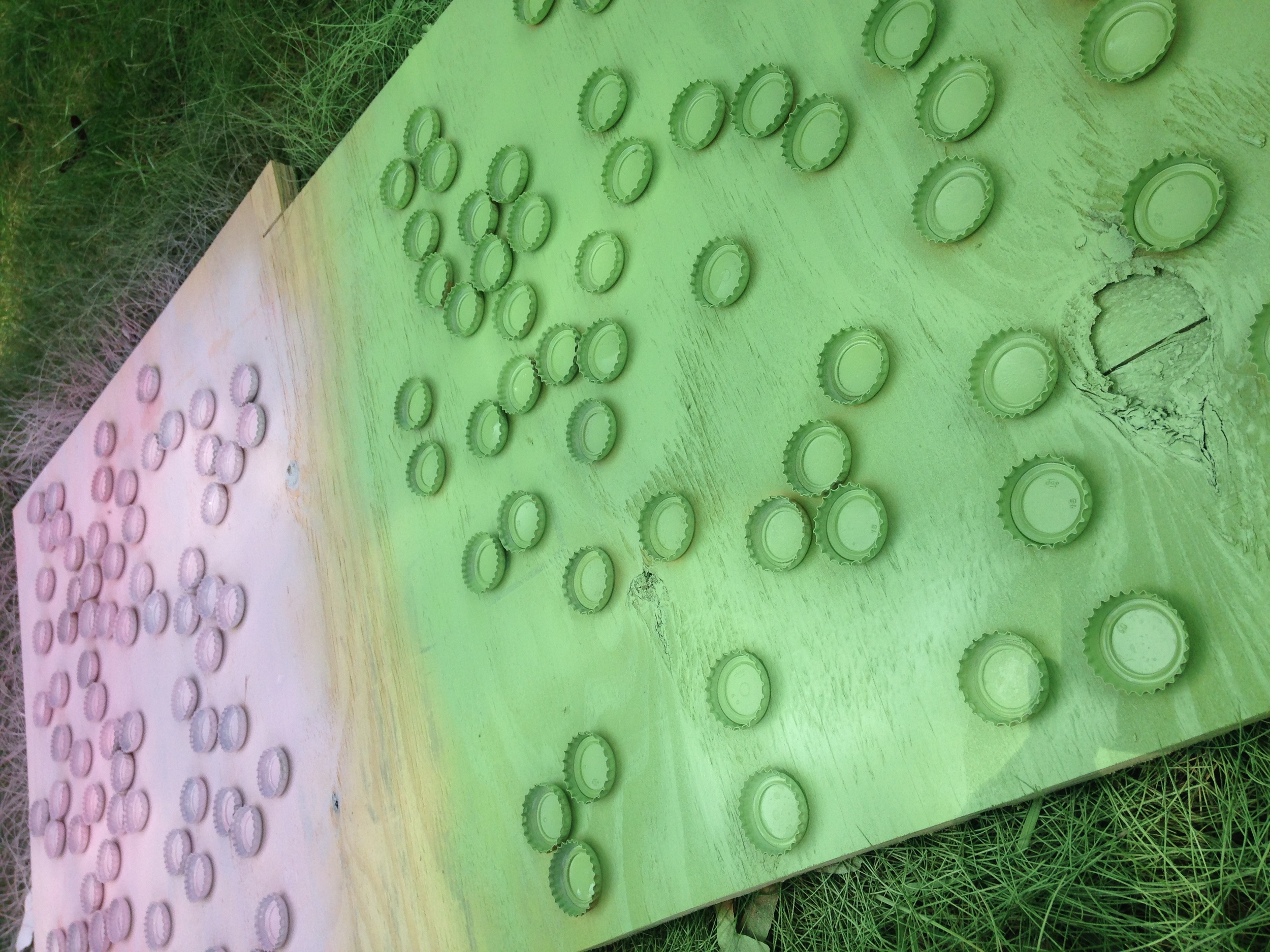 bottle caps - Use ugly ones. SPOILER ALERT! Save the nicer ones for future projects.
super glue - If you choose to use the tiny neodymium magnets I HIGHLY recommend it. Those buggers are strong and using this keeps them on the cap. I used a high powered epoxy on the first batch and they still came right off. Really, it has to be the kind of glue that makes your fingers crunchy for a day. Or you can use it cleanly.
scrap booking glue - this will glue your picture button inside the cap. so you want strong glue but specifically for paper. Other glues bleed through your image. Like the super glue did to mine. But it's okay guys. Because we learn things, right? Right.
1" epoxy stickers - These are see-through dome stickers. Like clear little buttons. True story.
Your choice of pictures cut into circles one inch in diameter - Your kids, your pets, letters, numbers, tic tac toe, flowers.....the possibilities are ENDLESS. You could try to cut it by hand, you maniac; or you could just get a.......
1" diameter circle paper puncher- but PLEASE for your sanity get one with a window to see what you are cutting. Trust me. And mine actually came with a window. I just was using it backwards. (I'm a special kind of crafty. It will get done, but I probably swore and definitely cried at least once during the process.)
colorful spray paint - I like Rustoleum because of the color palette but I'm not the boss of you. YOU are. Never forget that.
magnets - again, your call on the type of magnet. I used neodymium magnets. They are tiny and silver and can hold a lot of weight. They make thinner black magnets that have self adhesive, which does make this project way easier, but if you want to really use it as a magnet, it's not that strong. And someone told me neodymium is running low on the planet so I say stock up now.
glasses - because you're 34 now and these projects seem to be getting smaller, no?
Where can you get all these things? I don't know. I google stuff. Pick the cheapest and check the shipping. Because sometimes if it's too cheap, it takes 23-27 days shipping. Internet life lesson there, guys.
Spread your bottle caps out on a spare piece of cardboard or wood. Be in a well ventilated area....like OUTSIDE. Leave a nice amount of space between the caps. You want to line yours up like a little army because my free wheelin' nature scares you? Go right ahead, but it doesn't really matter. Now after you've shaken the can while singing the first verse of "Shake Señora" by Harry Belafonte, you're ready to paint! Spray about 10-12 inches away and keep moving. Apply an even coat, frequently changing directions so you cover all sides. Repeat after it dries for a darker color. Once that coat dries flip the caps and spray the other side. I mean...it's spray paint people.
Use your sweet new paper punch to cut out what you want in your cap. Or get scissors and go for it. But I have neither the time nor the rock steady nerves that it would require. So I punch.
Pop off an epoxy sticker and place its adhesive side directly on your image. It will show right through. Now go get your glasses and do one that actually lines up. We want bonus points for neatness, people. We will now call this thing we've created a "picture button". Oh what? You got something better? Yeah.......Thought not.
Squeeze a pea-sized dab of scrapbooking glue to the back of your "picture button" and gently press it into the painted bottle cap. I used a paper towel around my finger to keep my finger prints off the button. You really can never be too careful.
After waiting for the glue inside to dry, flip the cap over and put a pea sized amount of super glue on the back. EVER SO CAREFULLY-----take one of your rare and precious neodymium magnets and drop it into the center of the glue. It's powerful so it will snap right to the back and may fling a little glue if it snaps too fast.
Here is also where you can save a lot of time, mess, and hassle and use those thin black self adhesive magnets. This will allow you lots of extra time for picking up all the papers off of the floor that won't hang on the fridge because you took the short cut and used a weak sauce magnet. Because as we all know anything worth having is worth time, mess, and hassle.
Wait for it to completely dry and you, my friend, have a beautiful new fridge art organization system. Gold star!

So pour yourself a tasty beverage, cue up the Sirius 90's channel...maybe Backspin....and get cracking. Custom design some for your friends and family as gifts, party favors, place holders, or oh...I don't know.....a sweet new pair of "clip-ons"...